Will Saquon Barkley Fire Giants Back To NFL Playoffs?
July 5, 2018

by

CFP Staff

A lot has been made of the New York Giants taking Saquon Barkley second overall in the 2018 NFL Entry Draft, but he was most likely the best player of the class. On top of this, the Giants have needed a reliable running back since Ahmad Bradshaw's last season in 2012.

Barkley is one of the most exciting rookies coming into the 2018 season and has been training alongside Ezekiel Elliott, Odell Beckham Jr., and Sterling Shepard to ensure that he's ready for his first season in the big leagues. Now, with his rookie season a mere couple of months away, will Saquon Barkley be enough to take the New York Giants back to the playoffs?
It all fell apart in 2017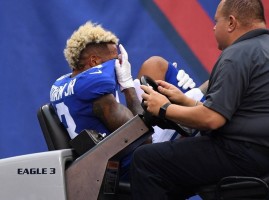 Source: NFLTradeRumors.co, viaTwitter
In 2016, the Giants showed off the shiny new defense that they had assembled and combined it with lethal passing play from the likes of Eli Manning, Beckham Jr., Shepard, and even Victor Cruz in part. But, in 2017, opponents identified New York's complete lack of ground game and suffocated the pass.
A tsunami of injuries throughout the offense hindered any hopes the Giants had of pushing through opposition defenses, while the rush remained a non-starter. Worst of all for Giants fans, the desperate management decided to bench franchise star Manning to end his starts streak at 210, replacing him with Geno Smith.
It all fell apart for the Giants in 2017, just as they looked to have a strong base to push on to bigger and better things. Now, with new management, new coaching, and some new faces on the team, the Giants look to erase the troubles of last season, which should be greatly helped by them finally having a viable rushing option.
Barkley can inspire greatness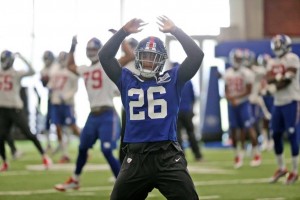 Source: Bleacher Report NFL, via Twitter
The New York Giants roster is filled with great talents at almost every position. In the other NFC divisions, this Giants team would be an early favorite to make it to the playoffs. However, the NFC East boasts the reigning Super Bowl champions, the Philadelphia Eagles, and the Ezekiel Elliott-led Dallas Cowboys.
But, now that the Giants have a star running-back in Saquon Barkley, the top-class receivers like Beckham and Shepard, as well as shining light of 2017 Evan Engram, will get more looks because the opposing defense will be kept honest by the threat of the rookie. The Giants look primed to bounce back despite their +350 bet365 NFL odds to make it to the playoffs.
While the Giants did lose defensive end Jason Pierre-Paul in a trade, they've added Alec Ogletree, Nate Solder, Jonathan Stewart, and Patrick Omameh to the team. The big question is, however, if those injured will recover in time. New head coach Pat Shurmur says that Beckham Jr. is getting close to being cleared for football activities after suffering a broken ankle, and Landon Collins looks to be cleared for training camp.
With a bolstered team fit and raring to go, the New York Giants should be a completely different entity to what fans of Big Blue saw last season. With a top-quality running-back in Saquon Barkley, the Giants should have a lot more room to operate on offense, and the rookie out of Penn State should clock in numbers that New York hasn't seen from a running-back in many years.